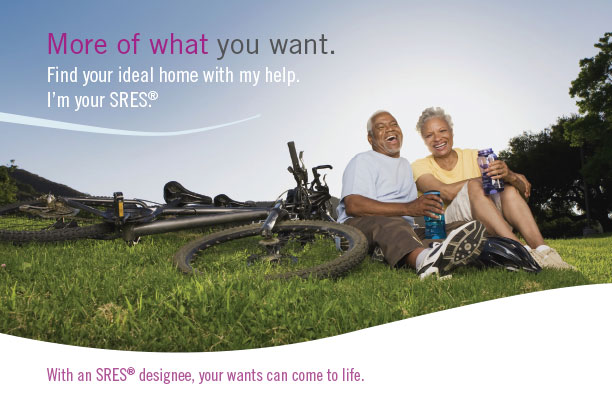 The following first caption is from the Senior Advantage Real Estate Council® Website at www.seniorsrealestate.com
Who are the Seniors Real Estate Specialists?
The Senior Advantage Real Estate Council®, "SAREC", was created several years ago to assist qualified REALTORS® wanting to meet the special needs and concerns of maturing Americans when buying or selling residential or investment properties. SAREC offers a specific designation, Seniors Real Estate Specialist, "SRES®", to identify those members who have successfully completed its educational program along with other qualifications.
REALTORS with the "SRES" designation help seniors make wise decisions about selling the family home, buying rental property or managing the capital gains and tax implications of owning real estate. By earning the "SRES" designation, the REALTOR has demonstrated that they have the requisite knowledge, experience and expertise to be a senior's real estate specialist and counselor.
Because America is maturing and over 80% of its contemporary seniors own real estate and/or are buying new properties, the Council provides its REALTORS with skills and knowledge to service the needs of this unique section of our community. Nearly 4 out of 10 property owners over 65 have lived in the same house for over 30 years. The issues facing these clients are unique and special.
The Kruse Company REALTORS®'s Seniors Team
Kelly Maly, a Realtor® with Kruse Company REALTORS®, was the first Real Estate Agent in Wisconsin to earn the prestigious Senior Real Estate Specialist Designation from the Senior Advantage Real Estate Council®. Beth Junge received her SRES® Designation soon after and together Beth and Kelly have made it their mission to help seniors throughout Madison and Dane County with all of their residential real estate needs.
The Kruse Company REALTORS® Seniors Team is dedicated to helping seniors with their most valuable asset, their home. We recognize that there is a need for additional services when handling the real estate needs of seniors and have a system in place for meeting those needs. Moving can be a very difficult transition, but Kruse Company REALTORS®'s Seniors Team is here to help you every step of the way, from providing valuable real estate advice and service to helping arrange your move. We have information for all levels of senior housing from condos to assisted living and nursing homes. We make it our goal to help make the transition process easier for seniors by providing information and guidance when it comes time to sell your home, with the patience, care and respect our senior clients deserve.